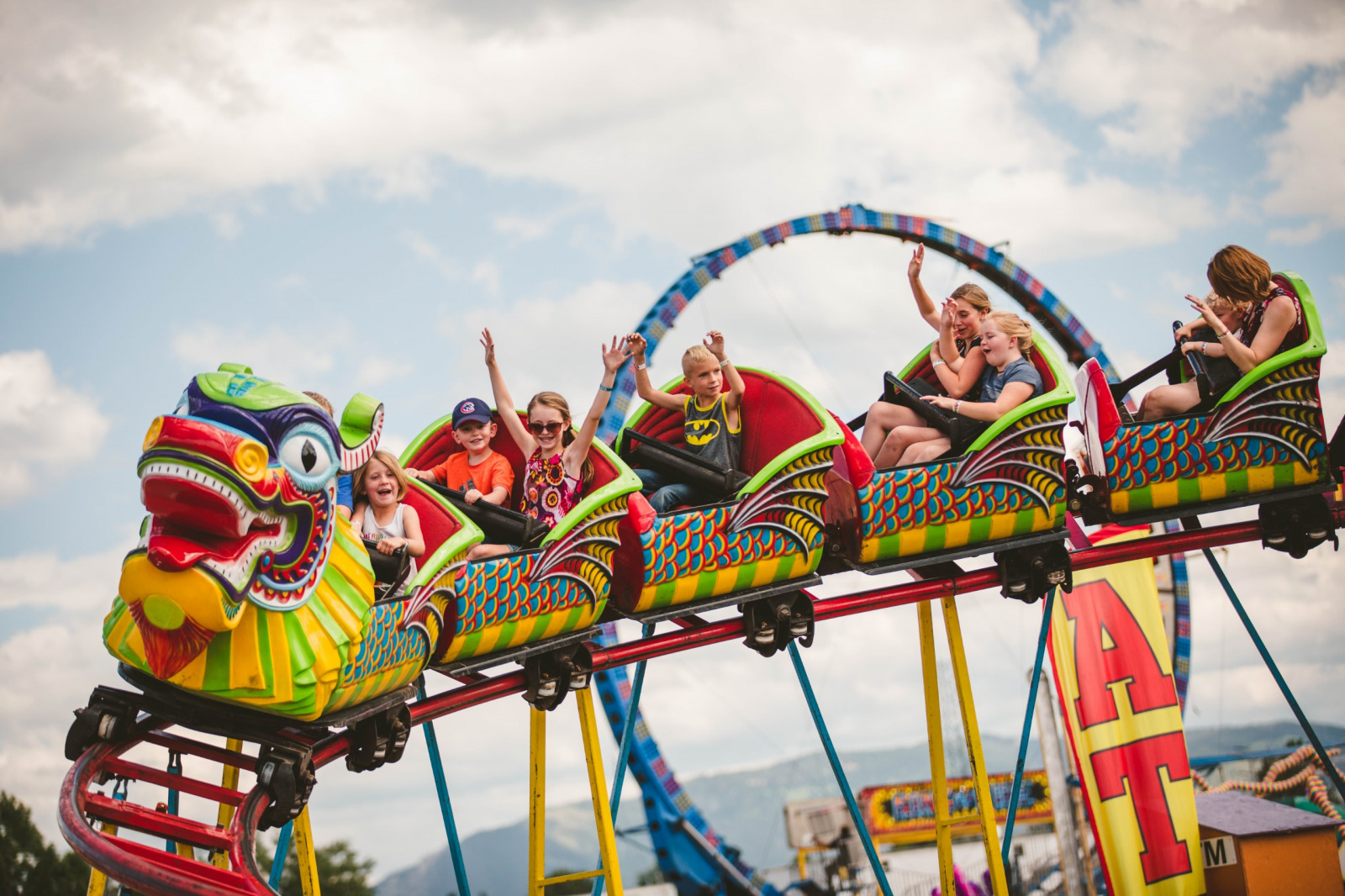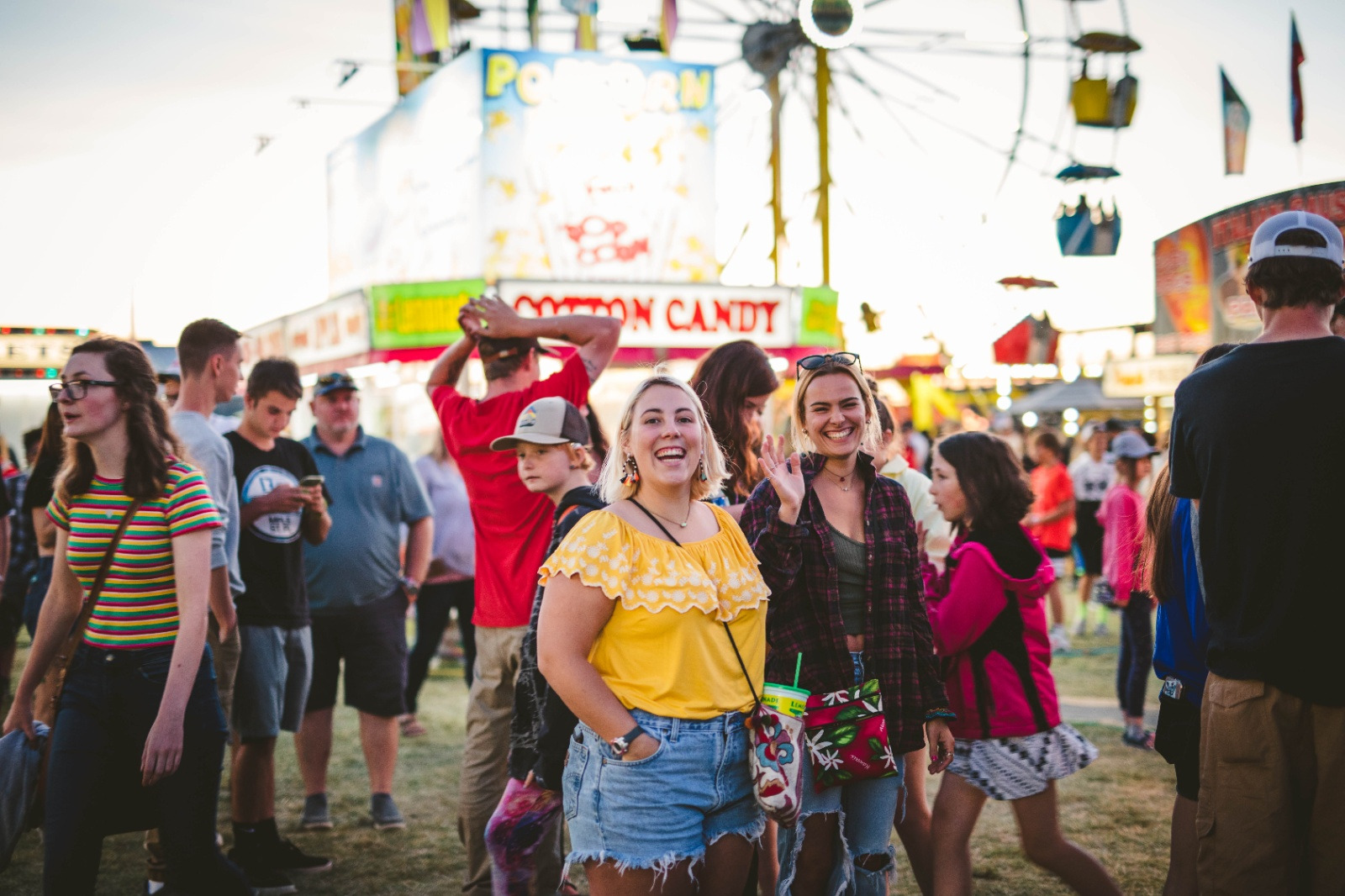 YOUR PERFECT SUMMER DAY July 19th-23rd 2023!
Need a dose of fun? Indulge in your favorite fair foods, experience the thrill of the carnival, and take in live entertainment! Enjoy family fun starting Wednesday, July, 19th; gates open at 11 am and close at 11 pm daily (6 pm on Sunday, July 23rd)

Enjoy nationally recognized talent during the night shows on the 19th-23rd. Back again this year is the Silver Bullet Stage, where we are offering nightly performances by live, local bands, along with music on the Treasure State Stage daily. Don't forget to check out our new Fair Market Stage, where there will be performances daily!

With over a hundred years of tradition, the Bozeman Roundup Ranch Rodeo will be held on Saturday, July 22nd. Come back Sunday, July 23rd for the Barnyard Brawl: Muttom Bustin', the calf scramble, and the chicken chase for the kiddos!

The Fair will also feature several fun-filled and animal-packed activities in the Pardners Corral!

Make sure you head over to the motorsports area for The Mud bog, and the Hill 'N Hole, to name just a few! No fair is complete without visiting the livestock barn! This year the livestock barn will have animals in the barns all week long.

More About the Big Sky Country State Fair!
The Big Sky Country State Fair offers a variety of guest services including Family Rest Center in Exhibit Building 2, Qualicare Assisted Transport, six ATMS, and ADA parking located in Oak and Tamarack Lots near A and B gates.

On-Site Parking


Please enter from Oak Street at the East Oak entrance by the baseball stadium.
Parking is available in the Oak Lot (for B Gate access), or you may continue on to the Tamarack Lot off of Tamarack St. (for A Gate access).
Parking will fill up quickly!
GENERAL FAIR REGULATIONS
1. Fair management considers it favorable if persons report any gross mistreatment or extortion practice by any employee of the Fair, commercial vendors or concessionaires. Report any said practices to management immediately.
2. Open class competition is open to the world unless otherwise stated.
3. Big Sky Country State Fair reserves the final and absolute right to interpret all rules and regulations and settle and determine all matters, questions and differences in regard thereto, or otherwise arising out of, connected with, or incident to the Fair.
4. Grounds are maintained and equipped to the best of ability and resources for public comfort.
5. A first aid station is located across from the carnival in case of accident or illness.
6. Fair management will carefully guard against extortion in any form practiced on patrons of the Fair. A violation of this rule shall cause forfeiture of contract and money paid and involves expulsion from the Fair under authority of Fair management.
7. Fair management reserves the right to direct and regulate the parking of all automobiles or other vehicles or conveyances within the Fairgrounds and to direct where they shall be driven. It may prohibit the running of automobiles in any section of the grounds whenever public safety demands it.
8. Fair management reserves the right to exclude from the Fairgrounds any person or persons whom they may deem undesirable, or who shall violate any of the rules laid down by the management, or who shall otherwise become offensive.
9. No roller blades, skateboards or bicycles allowed within Fairgrounds admission gates.
10. Under NO circumstances will dogs be allowed external to the barns except for canine competitions. Only livestock/canine/horse exhibitors are allowed to have dogs on the Fairgrounds, in camping areas, or in barns with the exception of trained service dogs.
11. In the event of conflict between General Fair Regulations and Exhibitor Rules, the latter will govern, subject to interpretation by management.
12. Big Sky Country State Fair is not liable for any printing errors in this publication.
Media
Members of the working press are welcomed to attend Big Sky Country State Fair. Media badges required. For media badge attainment, email
fairgrounds@gallatin.mt.gov
PRIOR TO July 10.
All media must alert the General Manager prior to arrival at 406-582-3270. No vehicles on location without Fair escort; vehicles must enter through C Gate with parking pass
Make sure you check out our app, now available on the app store!
Get Tickets